Published by OneSwitch.org.uk Thursday, 24 August 2006 11:52 pm.


0

Comments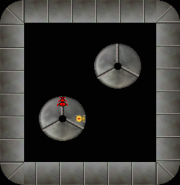 Dork is a new one-switch puzzle game, written by Alan deLespinasse, for PCs. It's a great little game, with some superb accessibility features. These include the facility to slow the entire game down, and adjust the difficulty level of the game.
Nice job, Alan! Download a demo of this game by clicking on the picture above.
Labels: new games, one-switch games